En pleine déferlente d'invitations sur Facebook, beaucoup de mes contacts me demandent pourquoi je ne suis pas encore inscrit, alors que « c'est trop cool, tout le monde est dessus », c'est the place to be… Pourtant, c'est toujours la même rengaine, seul le service change: Copains d'Avant, LinkedIn, Friendster, Flickr, Typepad, MySpace, etc. A chaque fois, c'est reparti pour des journées de galère à essayer de synchroniser son profil et ses relations sur le nouveau réseau, chercher tous ses amis, envoyer/répondre des mails d'invitations, tout ça pour finir quelques semaines plus tard avec quelques centaines de contats (toujours les mêmes), dupliqués sans cesse.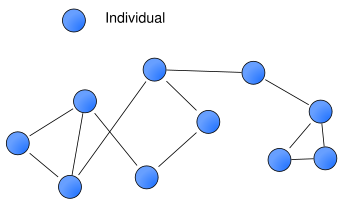 Comme le synthétise Brad Fitzpatrick, nouveau responsable du développement social de Google: « People are getting sick of registering and re-declaring their friends on every site. »
En effet, il n'est pas tant question d'identité numérique (bien qu'il soit pénible de chaque fois redéclarer son identité), mais surtout de réseau social: qui est lié à qui et comment? Comment retrouver sur un réseau social en ligne les contacts qu'on a déjà au sein d'un autre réseau social, en ligne ou dans la vie?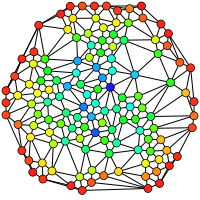 Arrive la notion de graphe social, proposée par le fondateur de Facebook, Mark Zuckerberg, et qui selon lui désigne:
« le réseau de connexions et de relations entre les gens sur Facebook, qui permet la diffusion et le filtrage efficaces de l'information »
source / traduction: Francis Pisani (via InternetActu)
Cette première description, trop restrictive car ne servant qu'à donner un nouveau nom au concept de réseau social (voir les réactions de Dave Winer ou de Nick Carr à ce nouveau buzz word), a vite été élargie, et désigne depuis la conférence Techcrunch40:
« l'ensemble des relations de toutes les personnes dans le monde. Le graphe social : il y en a un seul et il comprend tout le monde. Personne ne le possède«
source / traduction: Francis Pisani (via InternetActu)
Dès lors, on perçoit mieux la différence entre les concepts de graphe social et de réseau social, et comment le dernier essaye de donner une représentation numérique du premier. Un réseau social en ligne essaye de reconstruire une partie (voire l'intégralité) du graphe social, avec l'aide de ses utilisateurs, de façon à récupérer des informations sur les personnes, leurs actions et surtout leurs interactions, en échange d'une mise en relation facilité pour les utilisateurs qui y participent.
Car il s'agit bien d'un échange de bons procédés: le réseau social, souvent créé par une entreprise, met à disposition une plate-forme et des outils, et les utilisateurs fournissent des informations sur eux et leurs proches, ce qui, in fine, permet au réseau social de dégager un certain revenu via la vente d'informations personnelles qualifiées et/ou la publicité (modèle économique restant encore à prouver).
Conséquence: les réseaux sociaux en ligne sont naturellement fermés, chaque entreprise cherchant à protéger sa base de données et la valeur qu'elle représente. Ainsi, de Friendster à Facebook en passant par MySpace et consorts, de réseau social en réseau social, l'utilisateur avance, évolue, mais il répète surtout certaines actions ad nauseam: créer login – créer mot de passe – remplir fiche de profil – chercher amis – ajouter amis… Certes, ces actions répétitives ne datent pas d'hier, et font partie intégrante du net depuis les comptes e-mails jusqu'aux blogs et plateformes sociales en passant par les messageries instantanées.
Alors pourquoi maintenant toutes ces réflexions autour de l'identité numérique, ouverte, et unifiée? Et pourquoi l'irruption d'un nouveau mème: le graphe social? Double réponse: le timing et la concurrence.
Le timing car on est maintenant à un moment où une grande partie d'internautes a déjà répété trop souvent les mêmes séquences de création de profil pour se rendre compte qu'ils sont à 2 doigts de transformer ces actions en réflexes pavloviens (et personne n'aime aboyer).
La concurrence car un grand nombre d'acteurs de bonne taille cherchent maintenant à obtenir ou sécuriser une masse critique d'utilisateurs, nécessaire au développement de l'usage de leurs services, ce qui devrait permettre ensuite d'amorcer la pompe à revenus.
Ainsi, au fil d'habiles recrutements, déclarations d'intentions et conférences, on entraperçoit les mouvements des principaux acteurs:
On voit que l'heure n'est toujours pas à la trêve entre les entreprises qui financent et développent les services et réseaux sociaux qu'utilisent un nombre toujours croissant d'utilisateurs, ce qui est d'autant plus regrettable que ce sont les utilisateurs qui pâtissent de cette bataille de territoires fermés: impossibilité d'échanger avec des personnes qui ne font pas partie du même réseau social que soi, nécessité de s'inscrire à un réseau pour en consulter les informations (certains offrent une ouverture limitée avec un accès aux profils publiques des utilisateurs, comme LinkedIn ou Facebook), et bien sûr la nécessité de passer d'un réseau à l'autre en continuant à recréer des logins, mots de passe, profils, relations… Sans compter que la propriété des données personnelles est dans la plupart des cas l'exclusivité des entreprises qui contrôlent les réseaux auxquels vous participez.
Les réactions militant pour une ouverture des réseaux et une construction ouverte du graphe social ne manquent donc pas d'ambition et de justification:
Wired propose de dynamiter tous les réseaux fermés comme ont été progressivement abandonnées les premières enclaves type AOL ou Compuserve, en rendant l'intégralité des informations libres et publiques sur le net; reste à savoir comment déclarer les relations entre personnes, seule brique actuellement indisponible dans une version « web » et « libre/publique/ouverte ».
Brad Fitzpartick de Google propose de développer une couche technique (une API) ouverte et indépendante, sur laquelle les différents réseaux existants ou futurs pourraient importer/exporter les données des utilisateurs, évitant ainsi à chacun de développer et maintenir une coûteuse base indépendante (mais pourtant potentiellement très rémunératrice…).
Alex Iskold de Read/Write Web, en réaction au billet de Brad Fitzpartick, propose le regroupement des utilisateurs au sein d'une organisation, avec comme double objectif d'assurer une prise de parole solide face aux entreprises, et de permettre de s'entendre sur des standards ouverts, afin de ne pas perdre de vue et d'obtenir ce que tout individu cherche: une expérience fluide, simple, et qui laisse l'utilisateur maître de ses données personnelles.

Tout ça pour dire qu'il faut que je crée mon profil sur Facebook: un profil fermé de plus et des heures de redéclaration de contacts…